What an epic day, thanks to Miss Morgan. (Dear, START A FOOD BLOG. :*)
We started off at the Renegade Craft Fair - I feel like that will need to be a separate post, because I have so many beautiful cards and crafts and wonderful treasure finds. But alas, they have not yet been photographed or scanned, so that will have to wait until tonight when I get home.
Here's a snap to keep you tided over until then: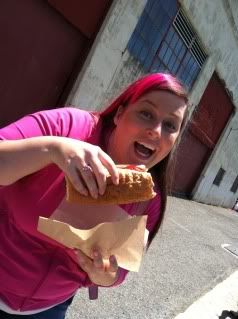 We spent the rest of the day recovering from the overload of people and crafts and crowdedness with an EPIC rooftop feast. Joan invited us into her beautiful home (full of crafts and found objects and art) and we assembled a buffet the likes of which has never been seen.
Clockwise from left: cheese plate with 5 kinds of cheese + white nectarine + orange, caprese salad, wine with swedish fish "ice cubes," and homemade guacamole.
Clockwise from left: toasted brie with apples, walnuts and honey; salami; cured salmon with peppercorns; smoked salmon; basil.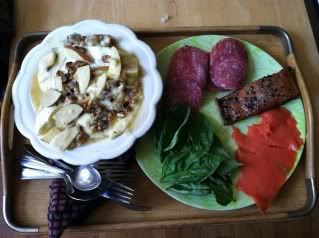 Heading up to the roof.. (+semifreddi's sour batard!)
First plate (of many):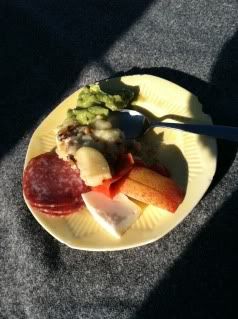 Miss Joan enjoying the sun: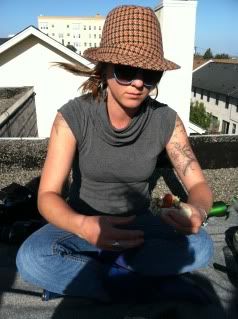 Aaand last but not least me & Morgan each wearing one of Joan's beautiful handmade wood-burned earrings. This girl is amazing - from what I could gather, her parents are woodworkers and toymakers, so she works with a lot of recycled and organic wood and other interesting found objects. So inspiring! Keep an eye out for her work under the name Sentient Salvage, coming soon.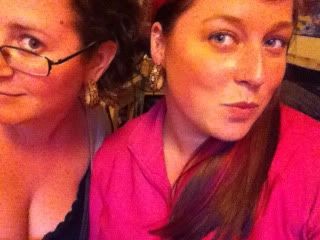 I couldn't believe how inspired I felt by Joan's home - she's lived there on and off for about 7 years, and you can absolutely feel the love and warmth she has infused into her home. So many different art pieces and hangings and knickknacks, and yet nothing felt cluttered and everything was very clean and tidy and easy to maneuver. Definitely a house made for comfort. I am inspired to nest more in my own home! I always have this vaguely anxious urge for flight, to not get attached to anything or anyone. But we become attached to people and places whether we want to or not. Why NOT nest in my own home, regardless of whether I'll be there for a month or a year or a decade? It's a hard mental block to get around, but I think it'll ultimately feel really good.
I've already got three new projects going:
Rearranging my bedroom so my bed is diagonally in the corner by the window (love sunlight on my bed in the morning!)
I found a white nightstand down in my garage, and am going to paint it sky blue and buy new knobs and replace my wobbly stack of milk crates with an actual bedside table. Plus it's got doors and two shelves, plus a drawer. Perfect! And free!
I have an old oval mirror that's pretty chintzy, but I was thinking of stringing some ribbons or wire across it and making it a necklace or earring display. I love mirrors.
Feeling pretty inspired (although exhausted from everything) and ready to craft...