Three words: EPIC CHICKEN FEAST.
To celebrate
Miss Alison
's birthday, I journeyed with some friends to
Suppenküche
, a darling German restaurant in Hayes Valley. Clean, airy, and spacious, this European eatery boasts a fantastic
beer selection
, not to mention a fairly large
menu
of favorite German dishes.
Our choice that evening was actually a special, although we badgered the good people of the establishment to put it on the regular menu once we had eaten our fill. This delightful meal, pictured above and below (before and after) consisted of half of a roasted chicken, with a savory dumpling cleverly hidden underneath, plus two hefty potato pancakes with sour cream and applesauce.
Now, growing up Jewish in a family of Eastern European descent had its many benefits, first of which was undoubtedly the cooking - cabbage rolls, matzoh ball soup, and of course latkes are favorite childhood memories.
Suppenküche does everything right - the small but intimate bar, the communal tables, the big windows - I can't wait to return!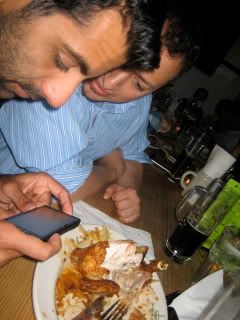 A last shot of friends ogling new technological advances over the remains of the poor but delicious bird.
Seriously, bring a few friends and go eat some latkes!