I've been so busy crafting, looking for a job and trying to get my home together that there just hasn't been any motivation to blog about it! I moved into my place in May, and here it is the middle of August and I'm still working on it. They say it takes six months to really move into a place - I'm certainly looking forward to unpacking that last box (whichever one is destined for that honor) and feeling at peace surrounded by the fruits of my labors.
Today I made this clutch, courtesy of
Bend-The-Rules Sewing
(an AMAZING book) and
Jo-Ann's
. I'm so proud of how it turned out! Only problem is that I don't have an iron yet, so it's not quite as pressed as I'd like. BUT - for someone who hasn't sewn in years, I think it looks pretty damn good!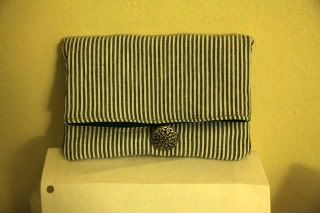 The lining is a really intensely colored teal linen, the outside is grey-and-white-striped linen, with cotton flannel interfacing, slate blue thread, and an antique-style mock-silver button.
And this rapid-fire mock-up journal was made on a whim, based loosely on one of
Alisa Golden
's single-signature book designs. The cover is a gorgeous marigold yellow color, and since I'm still learning how to really use
my new camera
the colors seem a little odd. And that ribbon! I want to put it on everything! I want to wear it in my hair! I want an entire dress made out of this fabulous turquoise satin ribbon!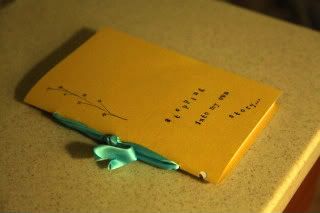 Whew. I'm on a roll. Next projects: a tablecloth for my teeny kitchen table, a chore chart that my sister kindly drafted for me (I'm gonna give myself gold stars as motivation for cleaning the bathroom :P), and a super-secret birthday gift for my dad. PLUS: off to Portland in just 12 short days, and New York right after that! I love August this year.
*D