The worlds we know are only made by dreamers - If my dreaming makes me blind sometimes in this world, what else do I see for it?
Thursday, February 19, 2009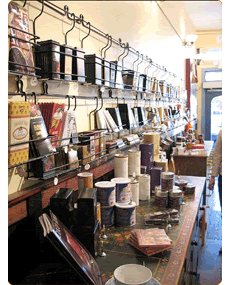 Bittersweet Cafe
is a tiny mecca for chocolate lovers tucked away into Oakland's Rockridge district. With friendly employees, an impressive array of chocolate bars and a growing selection of house-made confections, Bittersweet is the perfect place to spend a rainy hour or two.
Bars
are divided into three sections: Dark, Milk, and Surprises! The particular chocolate pictured below is an Earl Grey-infused dark chocolate, with tiny crunchy nibs for added texture. There's a benefit here to spending too much money on chocolate; I don't know if it was just a Valentine's Day special, but we bought four bars and got a free aluminum tin to keep them in!
Divine ended up being my favorite - pure dark chocolate, with a really sweet and mild aftertaste; we got another bar that was 70% cacao (read: delicious) but was a little too acidic for me.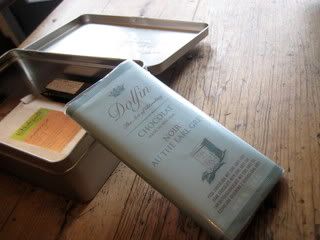 Besides their impressive array of chocolate, Bittersweet is, after all, a cafe. Go with any one of their
chocolatey drinks
, including Spicy! ("Hot and spicy, a kick of pepper and a hint of cinnamon and rose"), and you won't be sorry. They also supply
Blue-Bottle
coffee for all of your caffeine needs.
(First image from the
Bittersweet website
, second from my camera!)
Posted by

Devora
at 6:01 PM
No comments: