As my roommate situation has finally evened out, with my new roommate comfortably inhabiting the spacious dining room that constitutes the second bedroom of my apartment, I find myself jonesing for interior design in an entirely new way. Up until relatively recently, I've been satisfied with tacking photos and posters up on my bedroom walls and tossing some blankets over the well-loved couch. But glancing through design blogs like
Notcot.org
and
SF Art & Design Lover
makes me want to decorate, decorate, decorate.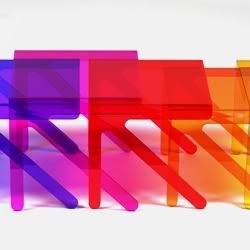 For starters, the Jo-8 colorful nesting coffee tables by London designer
Timothy Schreiber
make me want to have more dinner parties just so everyone can have their own table. Apparently based on Joseph Albers' 1927 Bauhaus design and made from aluminum, these lightweight (and colorful! COLORFUL!) tables would be perfect. I do have to admit, I like the color acrylic version that Notcot
posted about
much better than the aluminum model - frankly, it's prettier!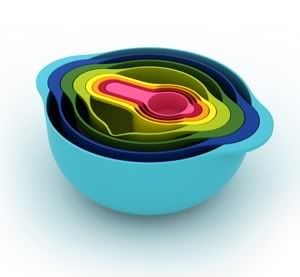 To continue the nesting theme,
Generate Design
, specifically the designer "morph," has produced
nesting plastic kitchen implements
! Far from the commonplace tablespoon/teaspoon measures, the set of 8 comes with not only tea- and table-spoons but large and small mixing bowls, a sieve, a colander, and measuring cups! Love the colors too. This also comes in a smaller size, a set of 5, which includes a juicer.
I'm starting to feel like the world of household design is splitting into different spheres; there's the everyday stuff you buy for its utility and its no-frills functionalism, like a blender or a refrigerator. But household design (specifically of consumer items) is also spinning off in a whole new direction: much like couture fashion, the consumable product is turning into something that is more about the construction than the function, something the average consumer might be intrigued by but is less than likely to buy. I find things like six-dimensional couches and light installations to be unbelievably, well,
cool
, but I'm not about to blow a whole bunch of cash on something that, let's face it, isn't so useful. The thing I like about the two products I listed above is not just their pretty colors and eye-catching symmetry; it's the efficiency of construction designed to increase functionality that really catches me.